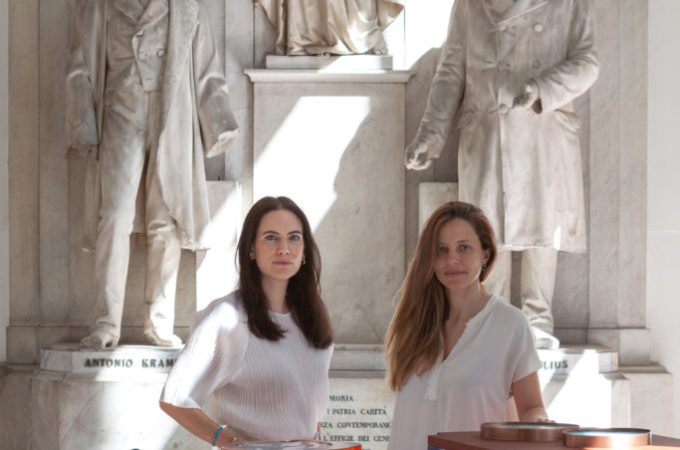 Discover AHU STUDIO, A Bespoke and High-end Design Studio, based between London and Istanbul.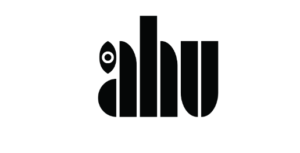 High-end and bespoke furniture design studio Ahu will exhibit their new
furniture pieces as part of 5Vie during Milan Design Week 2022.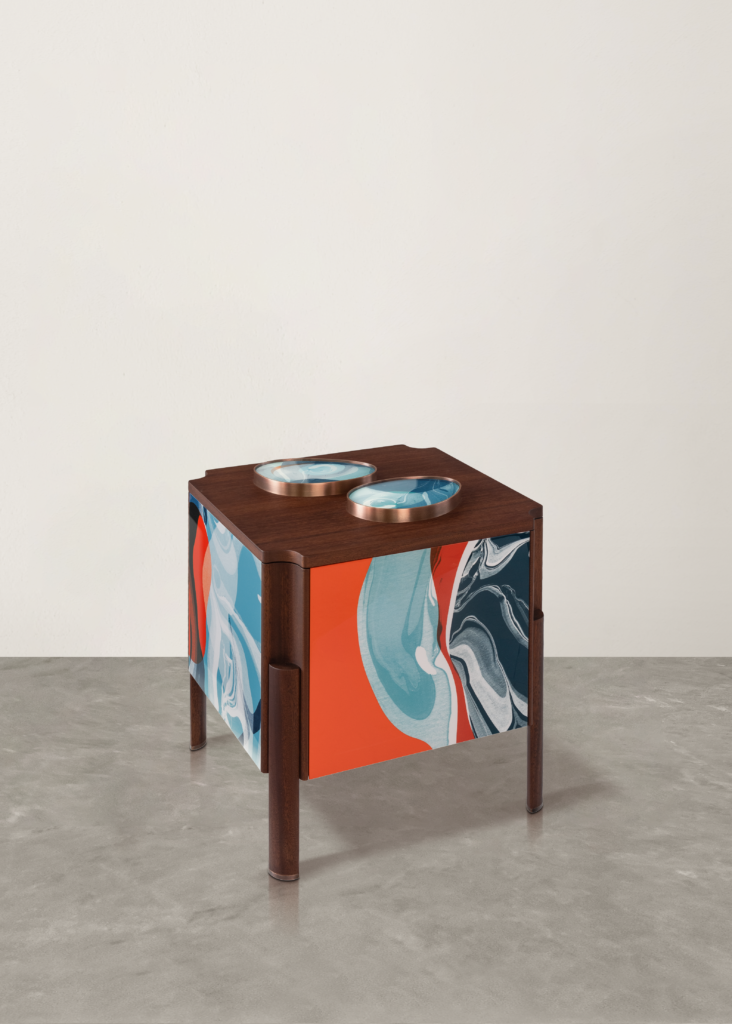 The Keyf 02 minibar is an
exclusive release to the
5VIE launch
Edition of 25 + 2 AP
Based in London and Istanbul, Ahu produces limited edition collectible designs that are both functional and sculptural. Each piece is hand made in Istanbul by master craftsmen in specialised, small ateliers using the highest quality materials and finishes.
Founded by longtime friends and Central Saint Martins alumni Eda Akaltun and Mevce Çıracı, the pieces combine works of graphic art with innovative product and furniture design – inspired and informed by the art, craft, history and mysticism of the diverse cultures that have inhabited Asia Minor and by ikram, the Turkish tradition of offering guests boundless hospitality.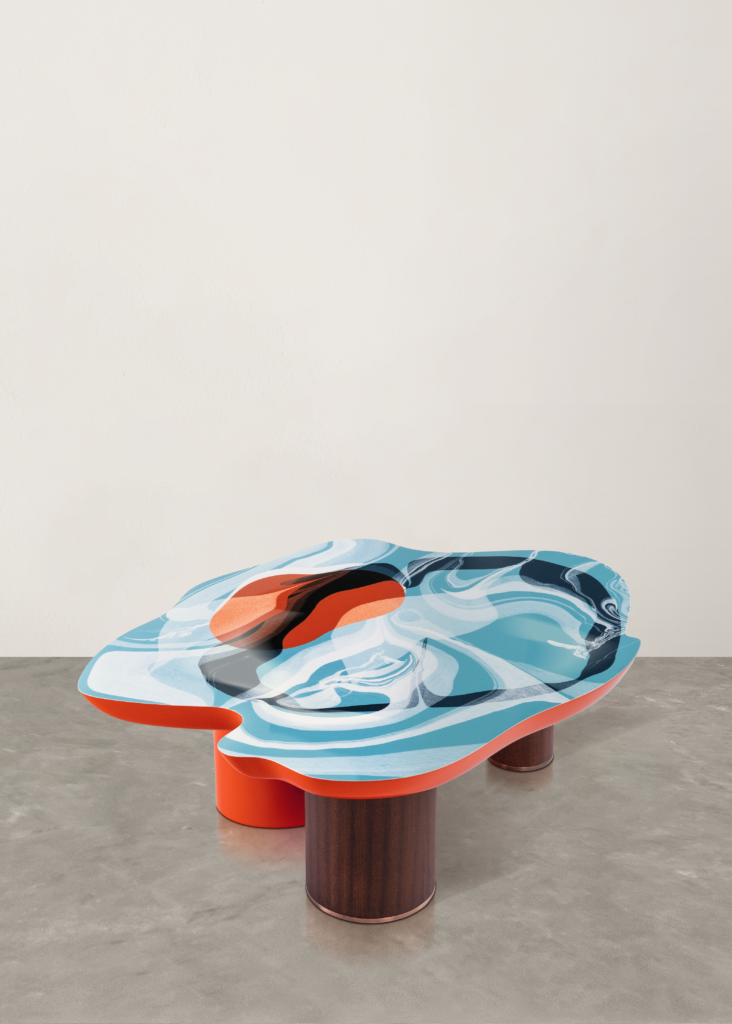 Ka'Ve 01 table
At 5VIE, Ahu is exhibiting a selection of coffee tables from their collection titled Ka'Ve (limited edition of 12 + 4 AP ) and a minibar titled Keyf 02 ( limited edition of 25 + 2 AP )
Separate sections of the pieces are formed by different masters and then assembled into one piece, conveying diverse knowledge and techniques of each artisan. The solid mahogany frame of the Keyf minibar is machined from digital data and hand finished by a master carpenter, who then treats it with henna to achieve its unique velvety touch. The artwork is applied on the panels using a unique digital printing technology, and then hand lacquered to achieve its glass-like high gloss quality. Similarly, the fluid forms of the Ka'Ve coffee tables are machined from digital data and the organic shaped legs are moulded using plywood.
Each Ahu design is a limited edition, and an individual, engraved metal plaque displays the edition number of each piece. The pieces are made to order with a lead time of 12-16 weeks.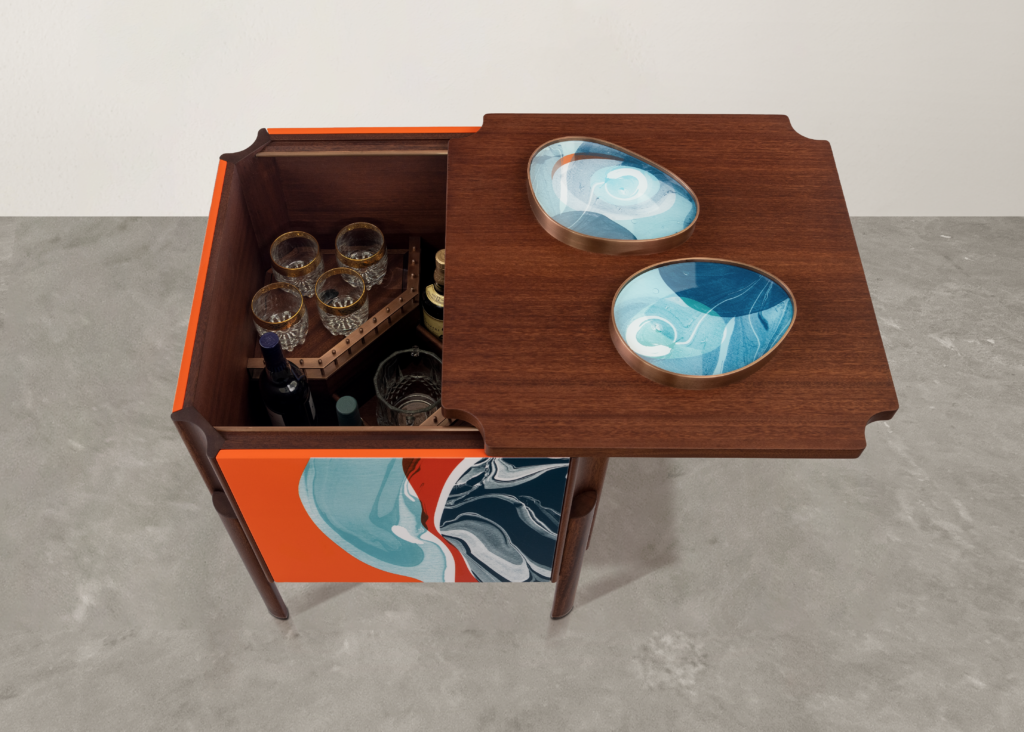 Keyf 02 minibar on exhibition during MilanDesign Week 2022
Co-founder Mevce Çıracı says, 'We blend traditional craftsmanship with state of the art design and fabrication technologies and value the use of raw materials and non-toxic surface finishes. The design of the cabinetcomplements the fluent nature of the graphic artwork, and allows it to be perceived as three dimensional.The organic forms of the eye paintings determine the outlines of certain elements such as the handles and legs, transformingthem into sculptural elements.'

Co-founder Eda Akaltun says, 'Superstition is deeply entrenched in our culture. The vernacular tradition in Turkey, Greece and throughout Asia Minor of the evil eye bead as a protective talisman, stretches back centuries and pervades everyday life. It is central to people's lives, and a symbol that holds immense power and meaning. They are ubiquitous, but have also become disposable and perhaps lost some of their deeper meaning. We wanted to take something which has been commoditised and elevate it into something unique and personal, reimagined in a contemporary way.'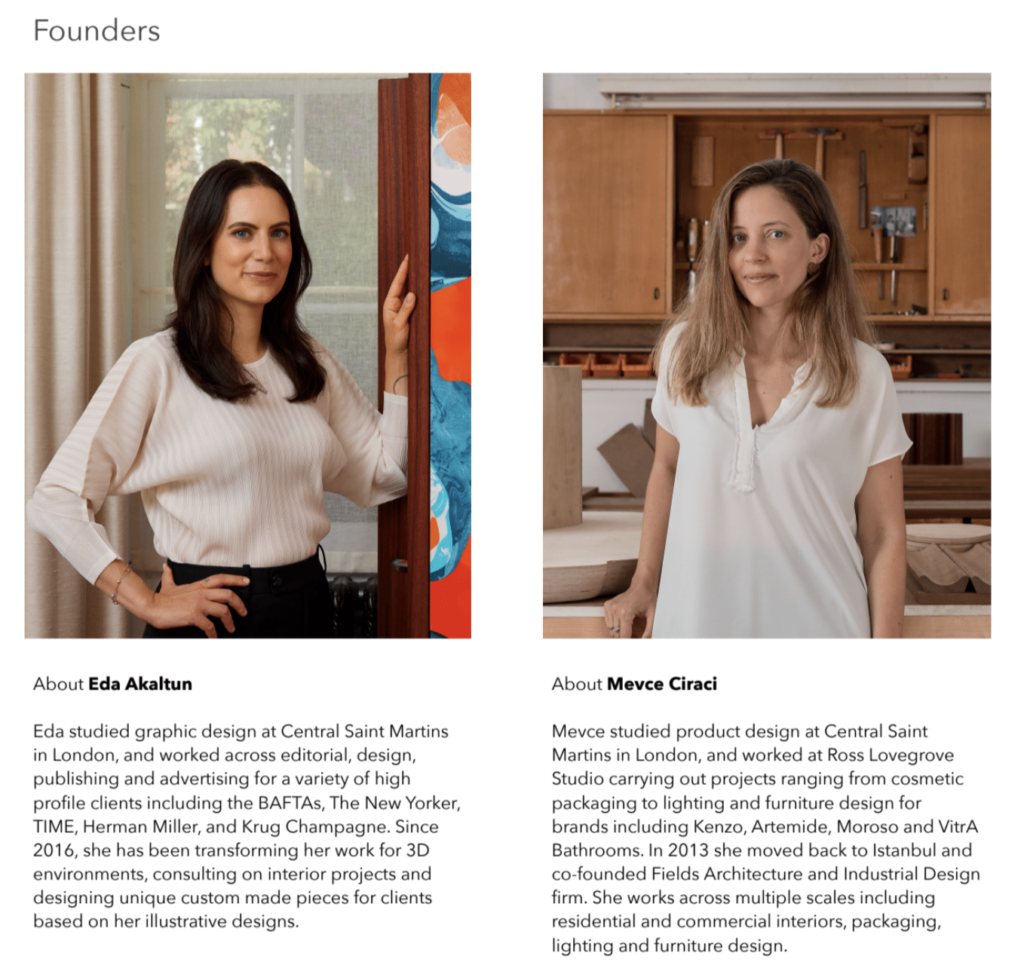 www.ahustudio.com
Recommended