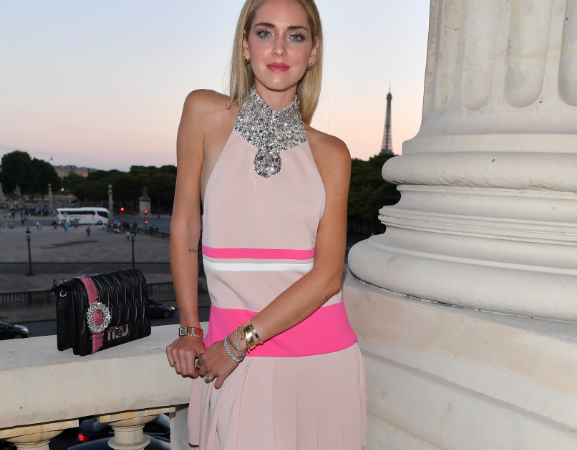 MIU MIU CLUB RETURNS TO PARIS
July 3rd 2017 – Continuing a tradition established in celebration of their Croisiere collections, Miu Miu presented Croisiere 2018 with a new iteration of the Miu Miu Club in Paris on 2 July 2017 at 9pm.
The club opened with a performance by self-described "fetish rapper" Tommy Genesis, followed by a fashion show set to a soundtrack by Frederic Sanchez.
The night continued with an informal dinner by chef Chicco Cerea of Da Vittorio and DJ sets by Siobhan Bell, Valentine Fillol-Cordier, and Slick Woods.
The location was the Parisian seat of the historical Automobile Club de France – the world's first automobile club –reinterpreted by AMO.
Originally founded in 1895, the club was moved several years later from a location near the Paris Opera to an august site on the Place de la Concorde originally designed by the preeminent Ange-Jacques Gabriel for King Louis XV and reimagined by Gustave Rives, a French architect known for his "opulent eclecticism."
"L'Auto" comprises spaces for recreation, education, entertainment, grooming, drinking, and dining. Most notably, though, the club played an important role in the development of the automobile.
In 1906, for instance, l'Auto organized the races that evolved into Formula One.
For Miu Miu Club 2017, the space was customized for innovation over incubation. AMO transformed the library into a car-themed lounge that reconciles the progressive spirit of the club with the grandeur of the late Rococo.
Classic boiserie contrasted with hot pink carpet installed for the fashion show; 19th-century ornamentation set off metal tables inspired by the details of classic cars.
The dining rooms were restituted to their original pomp with Louis Quinze furniture and brocade-embellished hallways that added new luster to the extant gilded decorations.
For the presentation of the collection, the models, illuminated by theatrical follow spots, traced a graphic circuit that linked the stage and the lounge.
True to the Miu Miu tradition, glittering young stars composed individual scenes, collaging sounds and styles over an atmosphere rich with creative history,
while guests frequented the bar, dining room, and spectacular terrace that overlooked the luminous city.
Guests included Elle Fanning, Emma Greenwell, Gwendoline Christie, Milla Jovovich, Millie Brady, Stacy Martin, Teresa Palmer, Anna Brewster, Alexa Chung, Aymeline Valade, Chiara Ferragni, Doutzen Kroes, Elena Perminova, Josephine de la Baume, Lauren Santo Domingo, Leaf Greener, Mariana Ximenes, Natasha Goldenberg, Sofia Sanchez de Betak, Tina Leung, Veronika Heilbrunner.
_________
Pictures of the guests and front row
Recommended